Several types of trees usually shed their leaves as a key strategy to survive adverse weather conditions. In temperate forests across Northern Hemisphere, trees also lose their leaves during autumn as the cold weather approaches.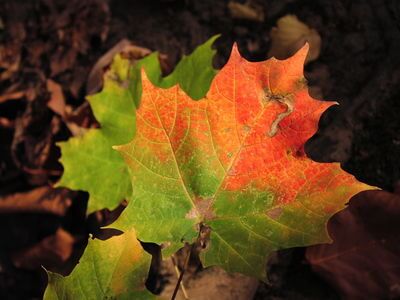 Trees lose their leaves at the beginning of the dry season in tropical and subtropical forests. Trees which shed all of their leaves for part of the year are referred to as deciduous trees while those which do not are referred to as evergreen trees.
Every autumn, we expect to see tree leaves change color. But how do they know when it is time to change? Leaves can actually sense less daylight and cool temperatures that cause them to change color and finally drop–often around October.
If trees shed leaves well before the fall season, then something might be wrong with the health of your tree. One of our readers in Texas did notice that right before fall, his oak tree started to lose its leaves way early. Now, it has lost nearly all its leaves.
Learn why the leaves of your tree may fall early. Here are four reasons why trees shed their leaves in August or early fall.
1. Pests and diseases
Leaf diseases or summer pests usually make their mark by changing the color of leaves (often, yellow) and causing them to droop or wilt. Ultimately, the infected leaves fall earlier than normal. If you live in Knoxville, TN or the surrounding areas, consult Knoxville Tree Service to know summer pests could be hurting your trees.
Also, pests such as mites, scales, and whiteflies can cause early defoliation. Spraying a pesticide will eradicate the infestation, but may not be practical for huge trees.
2. A crowded canopy
During a growing season, some trees may have grown extra leaves than they can support. Early leaf drop is an important mechanism for trees to conserve water in hot and dry weather. As long as the leaf loss is not severe, all your tree requires to recover is its weekly irrigation.
3. Old leaves
The leaves of a tree are temporary, even on the evergreens. They often do their thing for a specific period of time, get degraded by the elements over time, fall, and are replaced. How do you tell whether the dropping of leaves is just normal or signs of a severe problem?
Look at the type of leaves dropping. If the older leaves on the lower or inside parts of a tree are dropping, that is normal. The tree is in serious trouble if the newest leaves at the tips of tree branches are dropping.
4. Too little or too much water
Too little or too much water can lead to late summer leaf loss. In drought-like conditions, some trees will shed leaves to combat drought stress. Likewise, over-watered leaves can turn yellow and fall off. Excess water can suffocate the roots of the tree that cause stress in the canopy. Possibly, this is what was causing the oak tree of our reader in Texas to drop its leaves in summer.