When trees fall or are felled, their stumps still sit there firmly rooted in the ground. They need to be removed to avoid fungal root rots and suckering. You can remove the tree stumps from your garden if you have the right equipment and use the correct technique to remove them. In this article, we share how to tackle this landscaping problem the right way.
How to Get Rid of Tree Stumps in Your Home Garden
There are two ways you can go about this: the manual (or "Do it Yourself") method and hiring someone who can do it for you. Needless to say, there are some disadvantages of going the DIY way, which we will learn about before we dig deep into this topic.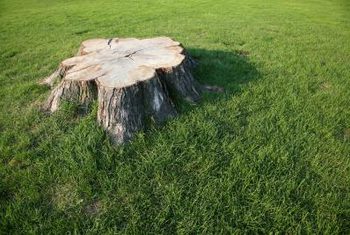 Disadvantages of the Manual Method
Disadvantage #1: Stump grinders are quite heavy and dangerous to operate
If you have no prior experience of removing the tree stumps for your garden and want to use a tree grinder, it's advisable you avoid going the DIY way since it can not only be dangerous for you to operate a stump grinder by yourself, it can be a very daunting task, to say the least.
Disadvantage #2: It can be challenging to dispose off the stump
What do you do after you remove the stump? What if the stump is too big to be allowed in the trash collection? You need to check with your local municipality if they will pick up stumps along with your trash.
When you are sure these two disadvantages of the manual method are not a challenge for you, read on to learn more about this method along with specific instructions. Else, jump to the next section which covers getting help from a stump removal expert.

Method #1: The Manual (DIY) Method
If you go for manual tree stump removal, you will need to use a shovel (or garden spade). a mattock, and an ax. Of course, everyone has their own preferences when it comes to tools, so let us suggest a few more supplies for this task:
– Heavy steel bar (a "digging bar" or "utility bar")- Small bow saw
– Large bow saw (a safer tool to use as compared to an ax)
– Steel-toed boots and gloves (for safety)
Assuming you've got all the necessary supplies to get this job done, follow these instructions:
Step #1: Dig around the tree stump with the broad end of the mattock. The bigger the size of the stump, the more dirt you'll need to loosen.
Step #2: Once you have properly loosened the dirt around the tree stump, shovel it out. This will let you access the roots that need to be removed.
Step #3: Use the other end of your mattock to start chopping through the tree roots.
Step #4: Dig further and chop your way under the tree's root ball up to the taproot.
Step #5: Chop through the visible taproot with your ax or a large bow saw.
Method #2: Getting Professional Help

Needless to say, the manual approach does involve a lot of digging, chopping, and sawing. Not everyone is capable of doing this kind of a job. This is why we will now focus our attention on a much easier way to get rid of a tree stump – getting professional help. 

Stump removal specialists have the right equipment to remove the largest stumps and reach even the biggest and deepest roots. They use the highest quality machinery available and follow the most efficient stump removal methods known in the landscaping industry. 

Finding Stump Removal Service in Knoxville, TN

When you search for terms like "Knoxville Stump Removal" or "Knoxville Stump Grinding", a number of results show up, many of which can be misleading. You should only go for a reputed stump removal service provider in Knoxville to avoid the hassles. Smoky Mountain Tree Service provides a reliable stump removal service in Knoxville, TN. 

No matter the stump's size, depth of its roots, or where it's located, their team of tree removal specialists will get it removed quickly and safely making sure there is the least possible impact on the rest of the property.
Need tree or stump removal in Knoxville, TN? Call Smoky Mountain Tree Service for a free project estimate.