Know if it Is Safe to Plant Trees in Summer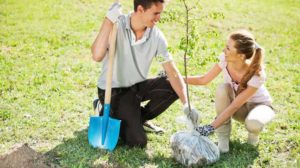 A Well designed landscape with thriving plants and trees can be an asset to any property. Majestic trees standing in the yards add to the beauty of any house. Trees take time to mature but once they have grown, they serve many purposes in the garden. Depending on the kind of trees you are planting, they can provide you with fruits, edible nuts, shade and shelter.
There are many different types of trees that can be planted in the home garden. You can choose the right ones depending on your requirements. There are some amazing privacy trees, ornamental trees, flowering trees, fruit trees and landscaping trees available in the market. It is crucial to plant these trees at the right time so that they grow properly as different types of trees have different requirements.
Some of the common types of trees that are available in tree nurseries are:
Bare Root Trees
Bare root trees are the ones that have been removed from the soil with the root system intact. These trees do not have a root ball of soil attached and the roots are usually trimmed. Bare root trees are generally available for sale in the market during late winter season or early spring season. However, there is no specific time and you can buy them all year round. It is advisable to plant these trees as soon as possible so that they have more chances of growth.
Balled and Bur lapped Trees
Balled and bur lapped trees are those that are removed from the soil with most of its root system intact. These trees are removed with a ball of soil around the roots. The root ball is then wrapped with burlap which is generally synthetic or plastic in nature. The roots are bur lapped to keep them moist and protected. These trees can be stored for some time after purchase as long as the root ball is kept moist. These balled and bur lapped trees can be planted in late summer or early fall.
Container Grown Trees
Field grown trees are generally sold in containers for transplanting. These container grown trees have their root system intact and you can plant them whenever they are bought. It is advisable to avoid planting them during harsh winter season when the ground is frozen. Fall planting and spring planting are generally preferred by most of the gardeners as the climate during these seasons is favorable.
You can find best quality trees in a reputed tree nursery. There are plenty of options to choose from so go in for the one that best suits your requirements.